Welcome Back Bestie ♥
A Fink & Ink is a Minneapolis shop inspired to create goodies for all of life's occasions - happy or sad, bitter or sweet...or, you know, bittersweet. Fueled by puns, podcasts, and pets we're here to add some color and laughter to your life while telling it like it is.
We're super stoked you're here!
WEAR YOUR HEART ON YOUR SLEEVE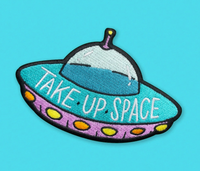 NEW IRON-ON PATCHES!
Brand spankin' new and just begging for a spot on your favorite jacket or tote. Check out the new designs as they roll in!
SHOP NOW