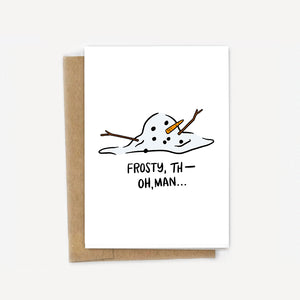 This hilarious card features a poor, jilted Frosty, who has melted away since his last winter's stroll. Send your best wishes this holiday season with this fun, festive card!
This A2 size digitally printed greeting card features original hand lettering and illustration. Each card comes with a brown craft-paper envelope and comes individually sealed in a cellophane bag. Inside is blank.
__________________
Wholesale customers: you must purchase this item in increments of 6 to be eligible for wholesale pricing.