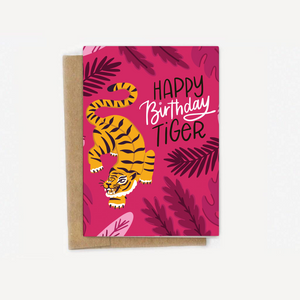 Send your loved ones this pink sassy tiger birthday card and their special day will roar! This bold and cute tropical card is sure to make them smile and add a bit of wild style to any birthday celebration.
This A2 size digitally printed greeting card features original hand lettering and illustration. Each card comes with a brown kraft-paper envelope. Individually sealed in a cellophane bag. Inside is blank.
_________
Wholesale customers: you must purchase this item in increments of 6 to be eligible for wholesale pricing.