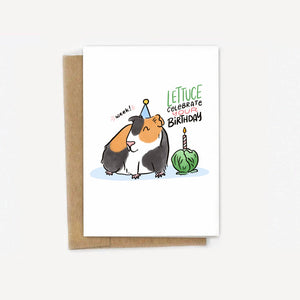 Lettuce celebrate your birthday in style! 🥗 Just a cute little guinea pig to brighten up your special day with this adorable birthday card! Perfect for any animal lover, this little guy is sure to make your birthday celebration even more fun! 
This A2 size digitally printed greeting card features original hand lettering and illustration. Each card comes with a brown kraft-paper envelope. Individually sealed in a cellophane bag. Inside is blank.
_________
Wholesale customers: you must purchase this item in increments of 6 to be eligible for wholesale pricing.